Fun things to do in Hendersonville, NC
Fun Things to do in Hendersonville, NC
If you are looking for fun things to do in Hendersonville, NC, you have come to the right place. This is your guide to what to do in Hendersonville, NC.
Since the early 1900's, Hendersonville, NC has attracted visitors and families seeking a gentle climate, lovely mountain scenery, and great recreational resources. Hendersonville,NC is located amidst the majestic mountains of the Southern Appalachians and is near the scenic Blue Ridge Parkway in Western North Carolina. Hendersonville, NC is at a altitude of 2250 feet above sea level and the altitude provides pleasant warm days and refreshing cool evenings. The city encompasses 5.7 square miles and the population is about 13,840. Hendersonville, NC is known as "The City of Four Seasons" because of its distinct seasonal weather patterns. Hendersonville, NC is a charming small southern town with many local shops, art galleries and restaurants.
Hendersonville, NC is an ideal location for exploring the many attractions of Western NC and Eastern Tennessee. Hendersonville, NC is 27 miles southeast of Asheville, NC via Interstate Highway I-26. It is 100 miles to Gatlinburg, TN and 110 miles to Pigeon Forge and Dollywood. So much to do in the general area!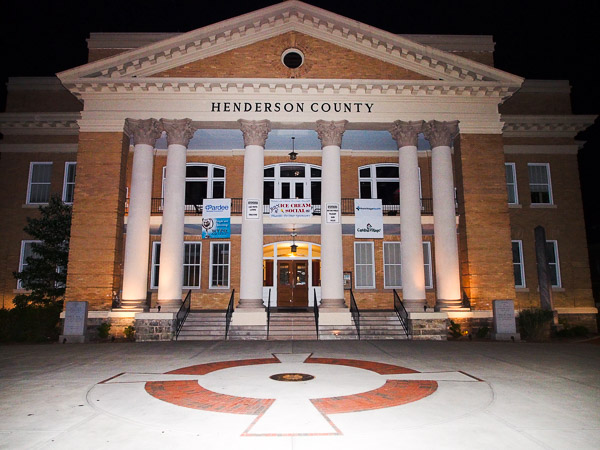 Historic Hendersonville, NC
Downtown Hendersonville is a lovely town with a serpentine street through the center of town. There are benches for relaxing, seasonal flowers, planter boxes and beautiful trees.
There are several attractions located in historic downtown Hendersonville. The Old Historic Henderson County Courthouse built in 1905. Courthouse guided tours are given each Wednesday at 2:00pm. There is no charge for the tour.
Some downtown attractions are Mineral and Lapidary Museum of Henderson County which exhibits the "T Rex". Other exhibits include a Hendersonville Meteorite, North Carolina Minerals plus a display of Fluorescent minerals and replicas of World Famous Diamonds.
The Henderson County Tailgate Market features locally grown produce, bedding plants and arts and crafts. Open each Saturday from 7:00a to noon on King Street.
Henderson County Heritage Museum is located at the Historic Henderson County Courthouse. Hours are Wednesday - Saturday 10:00a to 5:00p. and Sunday 1:00p to 5:00p.
The Henderson County Curb Market has been a local Hendersonville tradition since 1924. Is a unique farmers market requiring sellers to be residents of Henderson County. TAll items must be either hand-made or locally grown. The sellers offer a variety of goods such as: crafts, baked goods, jellies, plants, flowers, toys, and produce. The Curb Market's hours are 8am-2pm Tuesday, Thursday and Saturday from April-December, and 8am-1pm Saturday January-March. The Curb Market is located on the corner of 2nd Avenue and Church Street. For additional information call (828) 692-8012. 221 N. Church St., Hendersonville.
There are plenty of unique shops, galleries, museums, aquarium and antique stores. There is also a variety of restaurants including the Back to the 50's restaurant call Mike's On Main. Downtown offers free Wi-Fi for all to enjoy.
The Hendersonville Visitor's Center sponsors Music on Main Street Friday evenings for 12 weeks during Spring and Summer, along with the Antique Car Show on some evenings. Both are free.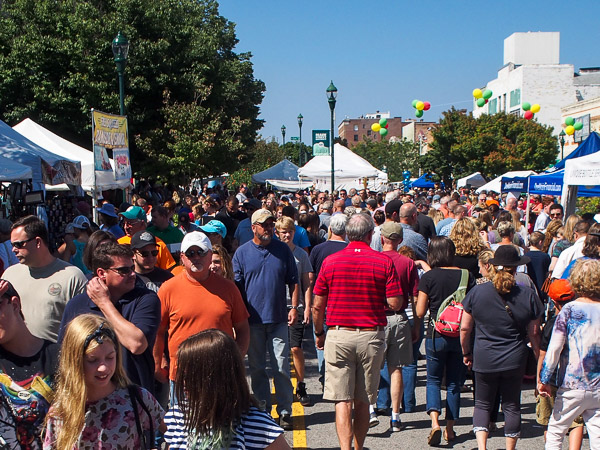 Main Street
Hendersonville, NC 28792
Apples are one of the most important agricultural crops grown in Henderson County. Henderson County ranks seventh in the production in the United States. Today there are about 200 apple growers in Henderson County. In a normal year the average income for growing apples is about $22 million dollars.
The Apple Festival is held annually on Labor Day Weekend (the weekend preceding the first Monday in September. It is a 9 block street fair on Main Street in Hendersonville. Come enjoy the food, fun, crafts, apples and live entertainment, plus rides for the children. The King Apple Parade is held on Labor Day on Main Street in downtown Hendersonville.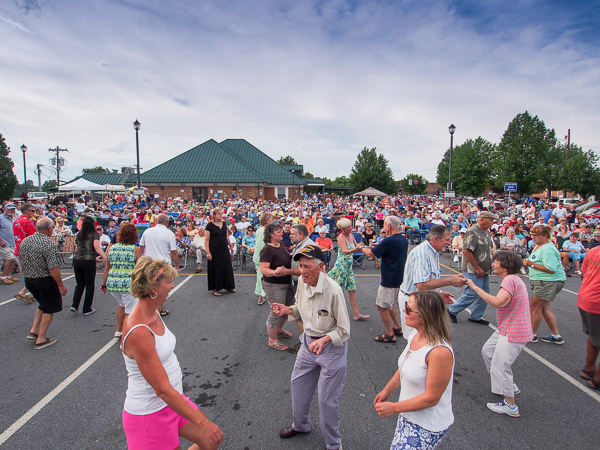 Music on Main - Hendersonville NC
Music on Main Street is held every Friday night from 7:00p until 9:00p beginning the first of June through the end of August. It is held in the Visitors Center parking lot.
Music On Main Street features a different band each week which plays music from the 1940's up to 1990's. People bring chairs, relax and listen to the music while others dance. So bring a lawn chair and relax or get up and dance and have a good time. The audience seating area opens after 5:30pm. Please leave your pets comfortably at home, Hendersonville City ordinance prohibits animals in the event area. Admission is free. Alcoholic beverages, backpacks, and coolers are prohibited.
There is also Street Dances at the Visitor Center on Monday Nights featuring 94 years of Traditional Appalachian Music and Dance.
Also, Music On Main Street has Classic Car Shows at certain concerts. For more information about the car shows call (828) 702-0448.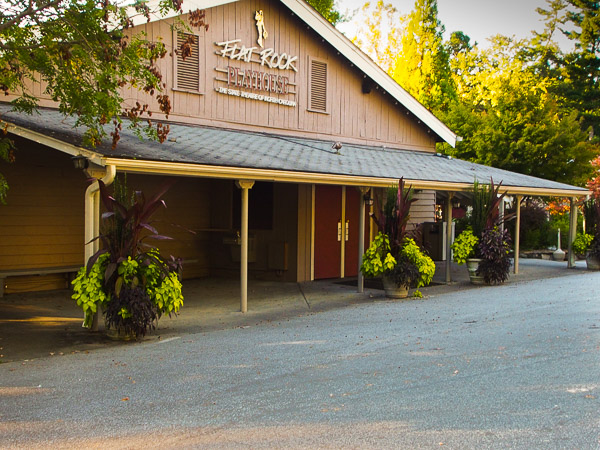 Flat Rock Playhouse
2661 Greenville Hwy
Flat Rock, NC 28731
(828) 693-0731
Flat Rock Playhouse is North Carolina's State Theatre located in the heart of the Village of Flat Rock and across the road from Carl Sandburg's home.
Flat Rock Playhouse has provided the highest level of professional theatrical entertainment for nearly 60 years. The Playhouse presents matinee and evening performance from mid-April through mid-December. There is also Flat Rock Downtown, which also has entertainment from plays to music groups and is located in downtown Hendersonville on Main Street. For more information visit Flat Rock Playhouse.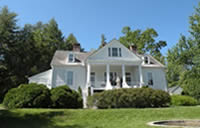 Carl Sandburg Historic Home
81 Carl Sandburg Lane
Flat Rock
,
NC
28731
Hours:
Daily: 9:30a - 4:30p
Closed Thanksgiving, Christmas and New Year's Days
Carl Sandburg's home is located three miles south of Hendersonville, NC on Little River Road off of the Greenville Highway/Rt. 225 in Flat Rock, NC. It is across the street from the Flat Rock Playhouse.
Carl Sandburg was recognized as the "People's Poet", was also an author, historian, Pulitzer-prize winner and biographer of Abraham Lincoln.
Carl Sandburg and his family moved to his home known as "Connemara Farms" in 1945 for peace and solitude for his writing. He lived at the estate for 22 years with his family.
Today you can take a tour of Carl Sandburg's home with a tour guide who will give you interesting information about Carl Sandburg and his wife and family. Also, don't forget to visit Mrs. Sandburg's world-renowned herd of dairy goats. You are permitted to walk among the goats, pet them and even have your picture taken with the goats by your friends. The 264 acre farm also includes rolling pastures, hiking trails, two small lakes, several ponds, flower and vegetable gardens, and an apple orchard.
Mr. Sandburg was a collector of books. There are about 10,000 books in the home, along with notes and papers. It took several railroad cars to move all the books from Elmhurst, MI.
There are five miles of hiking trails on the property. Most trails are rated easy to moderate.
For more information visit the Carl Sandburg Home.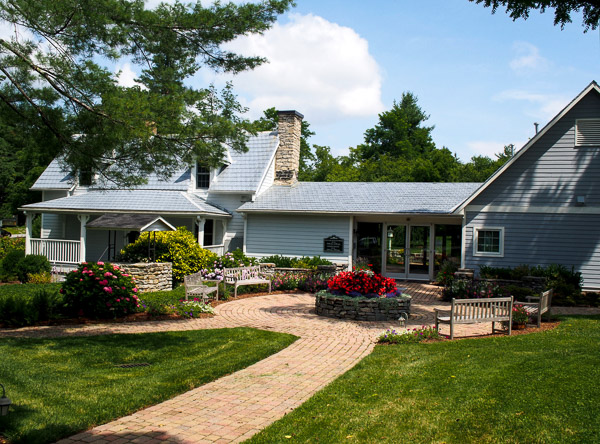 Village of Flat Rock
The Village of Flat Rock is home to Carl Sandburg's house and the Flat Rock Playhouse as well as other poets, artist and playwriters. Flat Rock is a beautiful village with unique shops and plenty of hiking trails. It is also home to the Flat Rock Playhouse which is the state theatre of North Carolina.
The Village of Flat Rock was established in 1807 by some wealthy Charlestonians who wanted to escape the hot weather in Charleston, SC during the summer months. Therefore, the Village of Flat Rock got its nickname "Little Charleston of the Mountains".