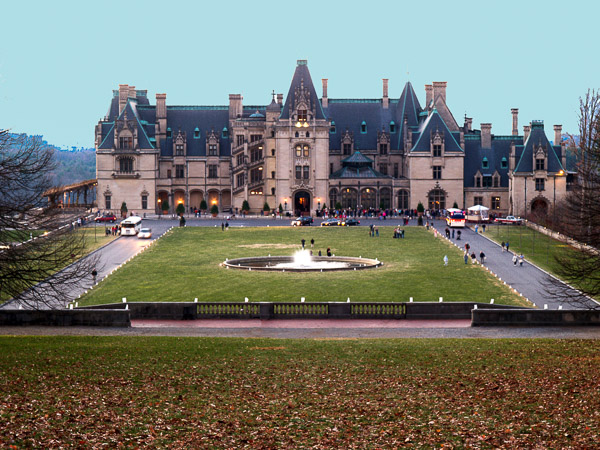 Biltmore Estate
1 Lodge Street
Asheville
,
NC
28803
Hours:
Monday - Sunday: 9:00a - 5:00p
The Biltmore House is a four-story French Renaissance manor which was built between 1889 and 1895. It is the largest privately owned house in the United States. The house has 178,926 square feet of floor space and 135,280 square feet of living area, which covers about 4 acres. The exterior walls are Indiana limestone. The steeply pitched roof has a copper roofline with Vanderbilt's initials repeatedly inscribed along the crest. The estate has 8,000 acres.
There is a total of 250 rooms. When bathrooms were unheard of, Biltmore House had 43. There are 65 fireplaces and three kitchens, along with 34 bedrooms, a grand Banquet Hall and a Library containing 10,000 volumes. The staircase is one of the more prominent features with its three-story winding balustrades with carved statures. There are 16 chimneys and are covered with slate tiles.
The Banquet Hall is the largest room in the house, measuring 42 feet wide and 72 feet long, with a 70-foot-high barrel-vaulted ceiling. The table could seat 64 guests.
There is additional living space on the second floor with the more lavish guest bedrooms and suites. The third floor have additional guest rooms. The forth floor has 21 bedrooms for the housemaids, laundresses, and other female servants. Male servants were housed in rooms above the stable and complex.
Located in the basement level included an indoor 70,000 gallon heated swimming pool with underwater lighting, a bowling alley, and a gymnasium with once state-of-the-art fitness equipment. There was also a pastry kitchen, rotisserie kitchen, walk-in refrigerators, servants' dining hall, laundry rooms and additional bedrooms for staff.
Biltmore Estates hosts a musical festival each year. Visit their website at Biltmore Concert Series for a program and schedule.