Brevard NC
- - - - - - - - - - - - - - - - - - - - - - - - - - - - - - -
Brevard "The Land of Waterfalls"
Brevard is famous for the many waterfalls nearby, therefore getting the name "The Land of Waterfalls". Brevard is one of those little known gems that can delight you and put a smile on your face; not so much for the facilities offered by the town but for the beauty and wonder of nature. So leave the motel room behind and get out and explore. And, there is plenty to explore.
Brevard is a small town with many options for its size. It has a variety of restaurants and shops for those who enjoy eating and shopping located in downtown.
The White Squirrel Festival is held Memorial Day weekend each year at the end of May. It features the Squirrel Box Derby cars that race down to Jailhouse Hill. The rare white squirrel is commonly seen in Brevard.
Since Brevard is located in Transylvania County, the town makes a big to-do over Halloween. Other celebrations include the "Independence Day" celebration and is major event in Brevard. Also, Christmas is another celebration with the Reindeer Run 5K Run. There is a Christmas Parade around noon time and at night there is a Twilight Tour with a thousand luminaries lit.
Mountain biking is a big sport in Brevard because Brevard is near both Pisgah National Forest and Dupont State Forest. In addition, you will also find road biking, rock climbing and, of course, the many waterfalls such as Looking Glass Falls, Sliding Rock, and Connestee Falls. Both Looking Glass in Pisgah and Whiteside Mountain, 35 miles and 1 hour from Brevard, are active mountain climbing areas.
- - - - - - - - - - - - - - - - - - - - - - - - - - - - - - -
349 Andante Lane
Brevard, NC 28712
(828) 862-2100

Brevard Music Center is situated on a wooded 180-acre campus in the beautiful Blue Ridge Mountains in Brevard. It is 22 miles and 31 minutes from Hendersonville.
The Brevard Music Center is both a festival and an institution of music. Musicians from many parts of the world come together to study, learn, and perform -- and do they perform! It is not easy to find any venue with better acoustics and sound.
During the summer season there are about 80 concerts including concertos, orchestra, opera, chamber music, and recitals by young musicians of exceptional talent. These talented and gifted students from all parts of the U.S., as well as some foreign countries, come to Brevard Music Center to gain experience and improve their musical skills
The cost of tickets ranges from free -- to $15.00 for a position on the lawn -- to around $35.00 for a seat under the roof; with special performance such as "Joshua Bell plays Mendelssohn" going for as high as $75.00.
- - - - - - - - - - - - - - - - - - - - - - - - - - - - - - -

Pisgah National Forest is located near Brevard on Hwy 276. Pisgah National Forest is over 500,000 acres and is primarily a hardwood forest.
Pisgah offers many recreational activities ranging from waterfall viewing, hiking, camping, mountain biking, wading, swimming and fishing. Note, however, that the water in the mountain streams is cold. At one location in the forest you will find a fish hatchery for mountain trout.
The magnificent Looking Glass Falls is located on the main highway, Hwy 276, and no hiking is required to see this beautiful waterfall.
Pisgah National Forest is also home of the Cradle of Forestry in America. The facility is opened from 13 April, 2013 through 19 Oct. 2013. Forestry in the United States began at the Pisgah National Forest and George Vanderbilt, who built the Biltmore house and owned many, many acres, was an initial promoter of forestry.
- - - - - - - - - - - - - - - - - - - - - - - - - - - - - - -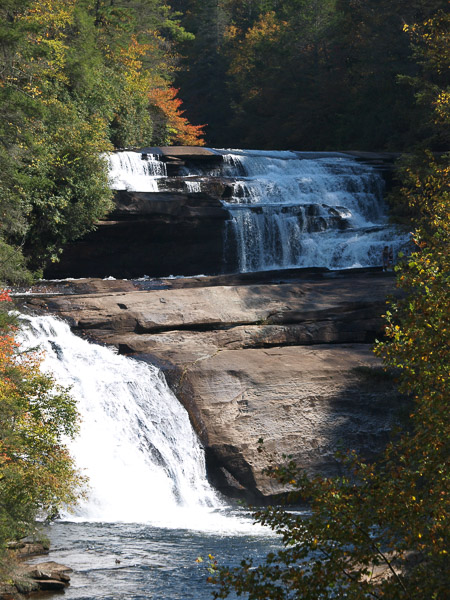 Triple Falls Dupont State Forest

Parts of the movies "The Hunger Games" and the "Last of the Mohicans" were shot in Dupont Forest.
Dupont State Recreational Forest covers an area of 10,400 acres and is located about half-way between Hendersonville and Brevard. It provides over 90 miles of hiking, biking and horseback riding trails throughout the forest.
In addition, swimming, canoeing, and kayaking are allowed were permitted. There are six scenic waterfalls in Dupont Forest; Triple Falls, High Falls, Hooker Falls, Bridal Veil Falls, Grassy Creek Falls, and Wintergreen Falls.
Getting to the waterfalls can require a short hike of about 1/4 mile for Hooker Falls and about 2.2 miles for Bridal Veil Falls. Hooker Falls is the most popular because of the easy access. Next would be High Falls and Triple Falls. They require a moderate hike on easy trails. Bridal Falls is beautiful but requires the longest hike; nearly all of it being on gravel roadbeds.
Park in the Hooker Falls parking lot to reach Hooker Falls. Park in the High Falls parking lot to reach High Falls, Triple Falls, and Bridal Veil Falls, .
Take a short drive to the Corn Mills Shoals parking lot to hike to Cedar Rock Mountain for a panoramic view atop hundreds of acres of exposed granite. Cedar Rock Mountain is a popular destination for mountain bikers.
Mountain bikers will find many bike trails ranging from easy forest roads to fast, exciting single tracks. About 10 miles from Dupont Forest, bikers can find many more challenging trails in Pisgah Forest.
DuPont State Recreational Forest Hours: 5:00a - 10:00p
- - - - - - - - - - - - - - - - - - - - - - - - - - - - - - -

Brevard is known for its population of rare White Squirrels that comprise about 25% of the squirrels in the area. This unique characteristic gives to the annual White Squirrel Festival that is held on Memorial Day weekend (last weekend in May).
The festival features The Squirrel Box Derby downhill race, Annual White Squirrel 5K/10K foot race, the White Squirrel Photo Contest, and the White Squirrel Dance-off. The is also live music, food , arts and crafts and a parade. And of course, don't forget to meet "Pisgah Pete," a rescued white squirrel, who will make his annual appearance at the festival and has become the town mascot.