Fun things to do in Hendersonville NC - Churches
- - - - - - - - - - - - - - - - - - - - - - - - - - - - - - -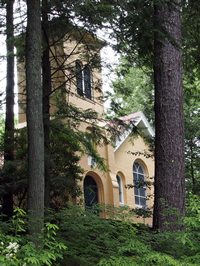 St. John's Wilderness Church
1905 Greenville Hwy
Flat Rock
,
NC
28731
Hours:
Tuesday - Sunday: 9:00a - 4:00p
St. John's in the Wilderness was built in 1836 and was the first Episcopal Church in Western North Carolina. The church is located at 1905 Greenville Highway (Hwy. 225 S) 0.8 miles from the center of Flat Rock. The church and graveyard are open Tues. - Sun. from 9:00a - 4:00p for visitation.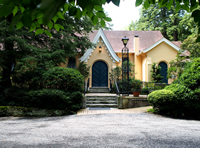 The church was first built as a private chapel for the Baring family but was later given to the Bishop of the newly-formed diocese. It is noted that both whites and slaves worshipped at the church and many were buried in the church cemetry. There are many noted southern names among the family plots and graves.
Many well-known members of southern aristocracy have family plots in the churchyard.
Today it is still a place of worship.
For additional information call the church at 828-693-9783. www.stjohnflatrock.org