Fun things to do in Hendersonville NC - Gardens
- - - - - - - - - - - - - - - - - - - - - - - - - - - - - - -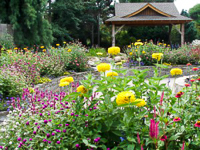 Bullington Gardens
95 Upper Red Oak Trail
Hours:
Monday - Saturday: 8:00a - 4:30p
Map
Bullington Gardens is a public botanical garden on 12 acres of rolling land providing hands-on education in horticulture and other sciences to students, youth clubs and adults. When visiting the gardens you will see some of the many unusual mature trees that Mr. Bullington had collected. Some of the trees you will see are Tanyosho Japanese red pine, kousa dogwoods, Japanese stewartia, paper bark maple and Japanese pagoda tree. Other specimen plants include a Sargeant's weeping hemlock, double flowering dogwood, big leaf magnolia and yellowwood.
Bullington Gardens offers activities and workshops. The gardens include a therapy garden, shade garden, butterfly garden, perennial borders, native woodland garden, pumpkin patch and herb garden. There is also a half-mile nature trail through the wooded area of the gardens.
- - - - - - - - - - - - - - - - - - - - - - - - - - - - - - -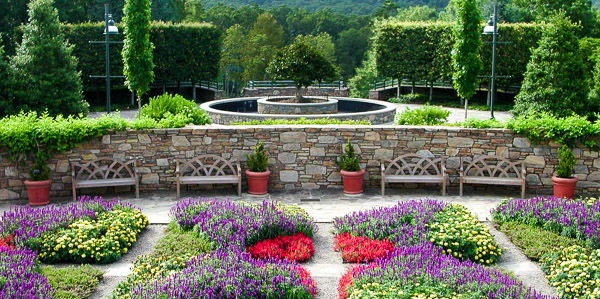 100 Frederick Law Olmsted Way
Asheville, NC 28805

Hours:
April - October
Monday - Sunday 8:00a - 9:00p (entrance gate closes at 8 p.m.)
November - March
Monday - Sunday 8:00a - 7:00p (entrance gate closes at 6 p.m.)
There is no admission fee, but there is a parking fee ($16.00 per vehicle as of March, 2020).
The North Carolina Arboretum is a 434-acre public garden located in the Bent Creek Experimental Forest in the Pisgah National Park. The arboretum is located about 10 miles from downtown Asheville. Visitors can stroll through 65 acres of gardens which include the National Native Azalea Collection, the Bonsai Exhibition Garden, a Heritage Garden that celebrates Southern Appalachian horticulture, a holly garden and a stream garden. Its tree collection includes a set of Metasequoias planted in 1950, and now said to be the tallest in the south (over 100 feet in height). The arboretum also includes many hiking and bicycling trails.
The arboretum offers free guided tours on Tuesday, Friday and Saturday.
Time to spend is 1 to 2 hours
Some of the gardens are:
Blue Ridge Quilt Garden - parterre reflecting quilt designs of the Blue Ridge Mountains.
Dickinson Holly Garden - a variety of American and non-native hollies.
French Broad River Watershed Training Center - Educational programs relating to streambanks and waterways, pasture management, stormwater runoff, and erosion control.
Heritage Garden - a demonstration garden for plants used in traditional Western North Carolina crafts, including dye-making, basketry, paper-making, and broom-making.
National Native Azalea Repository - a streamside garden representing almost every azalea species native to the United States, with cultivated varieties and hybrids. This repository is part of the North American Plant Collections Consortium.
Plant Professional Landscape Garden (2 acres) - a study, training, and testing site that contains 250+ ornamental plants from the Certified Plant Professional exam.
Plants of Promise Garden - residential demonstration gardens that include plants being evaluated for the Southern Appalachian region.
Stream Garden - a formal setting of trees, shrubs and perennials.
Support Facility Perennial Border - perennial flowers.
The arboretum's bonsai collection has about 100 display specimens which include Asian trees, Japanese maple, Chinese elm.
Driving Time and Distance

| From | Route | Distance | Time |
| --- | --- | --- | --- |
| Asheville | I-240 W | 11 Miles | 20 Minutes |
| Brevard | NC-280 W and NC-191 N | 25 Miles | 40 Minutes |
| Hendersonville | I-26 W | 19 Miles | 30 Minutes |
| Hendersonville | NC-191 N | 18 Miles | 33 Minutes |
Driving directions:
Attractions Menu
More websites for 'Fun Things to do'