Fun things to do in Hendersonville NC - Landmarks
- - - - - - - - - - - - - - - - - - - - - - - - - - - - - - -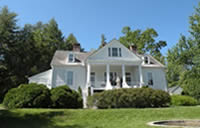 Carl Sandburg Historic Home
81 Carl Sandburg Lane
Flat Rock
,
NC
28731
Hours:
Daily: 9:30a - 4:30p
Closed Thanksgiving, Christmas and New Year's Days
Carl Sandburg's home is located three miles south of Hendersonville, NC on Little River Road off of the Greenville Highway/Rt. 225 in Flat Rock, NC. It is across the street from the Flat Rock Playhouse.
Carl Sandburg was recognized as the "People's Poet", was also an author, historian, Pulitzer-prize winner and biographer of Abraham Lincoln.
Carl Sandburg and his family moved to his home known as "Connemara Farms" in 1945 for peace and solitude for his writing. He lived at the estate for 22 years with his family.
Today you can take a tour of Carl Sandburg's home with a tour guide who will give you interesting information about Carl Sandburg and his wife and family. Also, don't forget to visit Mrs. Sandburg's world-renowned herd of dairy goats. You are permitted to walk among the goats, pet them and even have your picture taken with the goats by your friends. The 264 acre farm also includes rolling pastures, hiking trails, two small lakes, several ponds, flower and vegetable gardens, and an apple orchard.
Mr. Sandburg was a collector of books. There are about 10,000 books in the home, along with notes and papers. It took several railroad cars to move all the books from Elmhurst, MI.
There are five miles of hiking trails on the property. Most trails are rated easy to moderate.
For more information visit the Carl Sandburg Home.
- - - - - - - - - - - - - - - - - - - - - - - - - - - - - - -
Curb Market
221 North Church Street
Hendersonville
,
NC 28792
Hours:
April - December
Tuesday, Thursday - Saturday: 8:00a - 2:00p
January - March
Tuesday, Saturday: 8:00a - 1:00p
In 1924 the Curb Market was established as a central place where Henderson County farmers could bring their products and offer them for sale. Today it has become a small farmers market. All items sold are hand-made or locally grown by local Henderson County residents. The products include baked goods, crafts, jellies, plants, flowers, toys and produce.
- - - - - - - - - - - - - - - - - - - - - - - - - - - - - - -
Historic Johnson Farm
3346 Haywood Road
Hendersonville
,
NC
28791
Johnson Farm House was built around the 1880's. The farm includes a barnloft museum, 10 historic buildings, animals, nature trails, and 15 acres of fields, forest and streams.
The house was built with bricks that were fired on site from the French Broad River mud. The interior of the house furnishings are from the early 1900's.
Tours September to May
Monday – Friday: 10:30a and 1:30p.
The grounds are open from 9:00a
- - - - - - - - - - - - - - - - - - - - - - - - - - - - - - -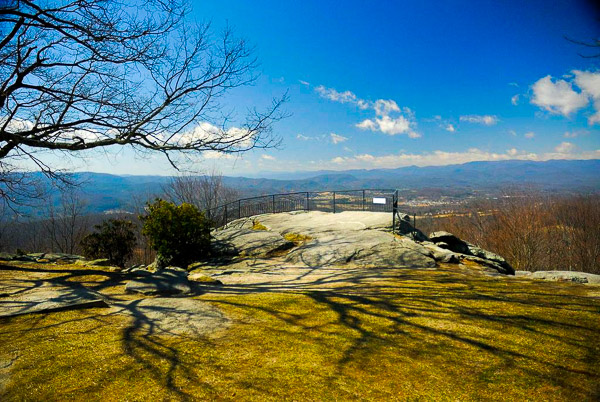 Jump Off Rock
Jump Off Rock is one of the most famous and visited sites in Laurel Park. Jump Off Rock is 4.8 miles and 15 minutes driving time from Hendersonville.
It has many hiking trails and beautiful mountain views. Jump Off Rock offers a scenic panoramic view of the French Broad River Valley, the Blue Ridge and Pisgah mountain ranges with great sunsets.
The tale of Jump Off Rock is that a young Cherokee maiden and her Cherokee chieftain met at Jump Off Rock many times. When tribal wars called him away he promised to meet his maiden at the rock when he returned. Each evening the maiden went to the rock to look for her lover. But when the warriors returned they brought the news that the young chief had died in battle. Upon hearing this news, in the twilight, the maiden climbed to the edge of the cliff and jumped. Indian lore says on some moonlit nights, the ghost of the heartbroken maiden can be seen on Jump Off Rock. For more information visit Jump Off Rock.
- - - - - - - - - - - - - - - - - - - - - - - - - - - - - - -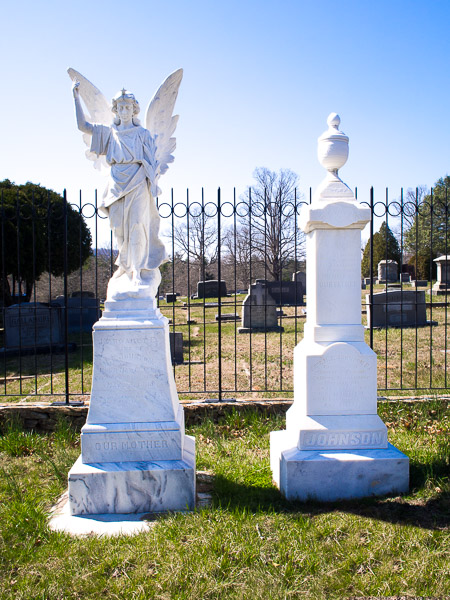 Wolf's Angel
Wolf's Angel
US 64 Hwy. (Oakdale Cemetery)
Hendersonville
,
NC
28792
Thomas Wolfe's father, William Oliver Wolfe, ordered an angel statue from New York and it was used for years as a porch advertisement at the family monument shop on Patton Avenue. W. O. Wolfe sold the statue to the Johnson family in Hendersonville, North Carolina in 1906. The angel statue is referenced in Thomas Wolfe's first novel, "Look Homeward, Angel". The statue is an angel carved from Italian marble and is located in the Oakdale Cemetery and marks the Johnson family plot. The statue is protected by a wrought iron fence and there is a historical marker on highway 64.