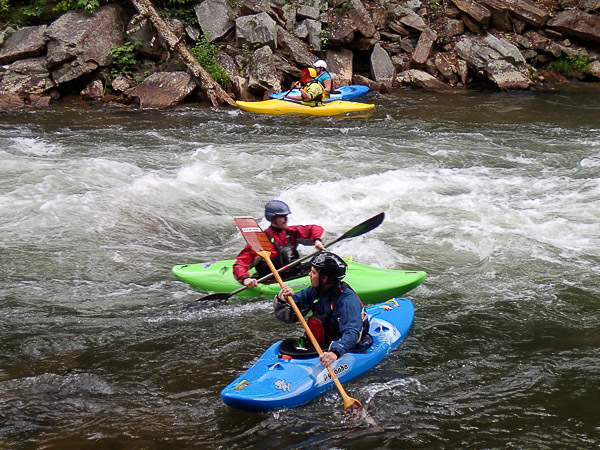 Water Sports
Enjoy rafting, boating, canoeing, kayaking, tubing, or swimming in Dupont Forest, Pisgah Forest or on the Nantahala River. You can go water sliding at Sliding Rock. You can go swimming at Hooker Falls, Lake Dense, and Fawn Lake in Dupont Forest. You can go tubing, canoeing, kayaking, or rafting down the French Board River or Davidson River.
As you can see, there are many rivers, streams, lakes, and waterways ideal for canoeing, kayaking, and whitewater rafting near Hendersonville, NC.
Follow the bends and turns of the free flowing French Broad River in a kayak or canoe and enjoy the perfect mountain views and abundant wildlife found along its banks. While floating along the river you can view some of the waterfalls in Transylvania County. For a more adventurous ride, there are also areas of the French Broad River or Nantahala River for white water rafting.
A one hour, 41 mile trip, will take you to Lake Lure where you can go swimming, kayaking, canoeing or boating.
Ninety miles, and 2 hours, from Brevard is the Nantahala Outdoor Center, locally known as NOC. It is 14 miles West of Bryson City on Highway 74-W.
Other locations for water sports
Lazy Otter Outfitters
10 Banner Farm Road
Horse Shoe, NC
(828) 756-1386
Comments: Tubing adventures and kayak rentals on the French Broad River in Henderson County, NC
ZenTubing
1648 Brevard Road
Asheville, NC
(855) 936-8823
Comments: tubing located on the French Broad River 1/4 mile from the Blue Ridge Parkway and the NC Arboretum on Hwy. 191
Green River Adventure
111 East Main Street
Saluda, NC
(828) 232-1970
Comments:
kayaking
Headwaters Outfitters
25 Parkway Road
Rosman, NC
(828) 877-3106
Comments:
canoeing, tubing, kayaking, & fishing.
Nantahala Outdoor Center
13077 Hwy 19 W
Bryson City, NC
(828) 488-6900
Comments:
offers family friendly adventures rafting and paddling the Nantahala River, mountain bike rentals & lake kayaking.