Hendersonville History
- - - - - - - - - - - - - - - - - - - - - - - - - - - - - - -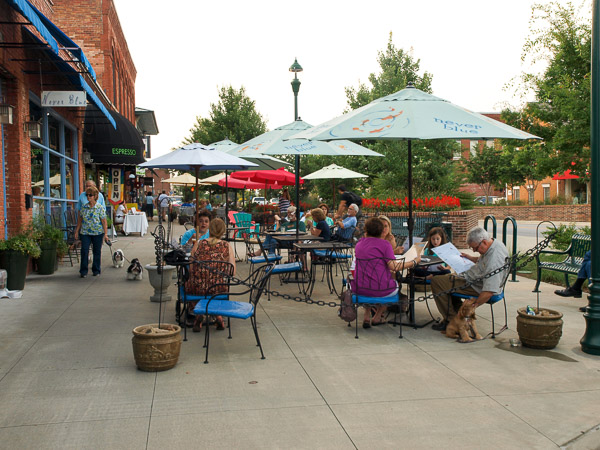 See also: Main Street Tour
Hendersonville is known as the "City of Four Seasons" and is an ideal retirement community. Since the early 1900's, Hendersonville has attracted visitors and families seeking a gentle climate, lovely mountain scenery, and great recreational resources. Hendersonville is 2,200 feet above sea level and is on a mountain plateau between the Blue Ridge and the Great Smoky Mountains. The climate is moderate but you still can experience the four seasons.

Agriculture was the sole industry for early Hendersonville citizens. Tourism came later as visitors from the lowlands in South Carolina and Georgia discovered the scenic beauty and cooler climate.

Today, downtown Main Street is a beautiful serpentine street lined with lovely trees and flower filled brick planters. There are numerous unique shops for browsing or just stroll down the sidewalk and window shop. There are plenty of benches to sit and people watch or socialize with you friends.

Henderson County has many parks, picnic areas, hiking trails and other outdoor attractions.

Two popular downtown events in the summer are Music on Main Street on Friday evenings (during June and August) and Dancing in the Street on Monday nights (July through August). Both events usually last from 7:00p to 9:00p in the evenings, with parking lot seating beginning at 5:30p. It is recommended to bring a chair, and also note that both alcohol and pets are prohibited.

Henderson County has long been known for its superior apples, and apple production still continues to be a major industry. Hendersonville celebrates this fact every summer with its famous North Carolina Apple Festival.
See also: